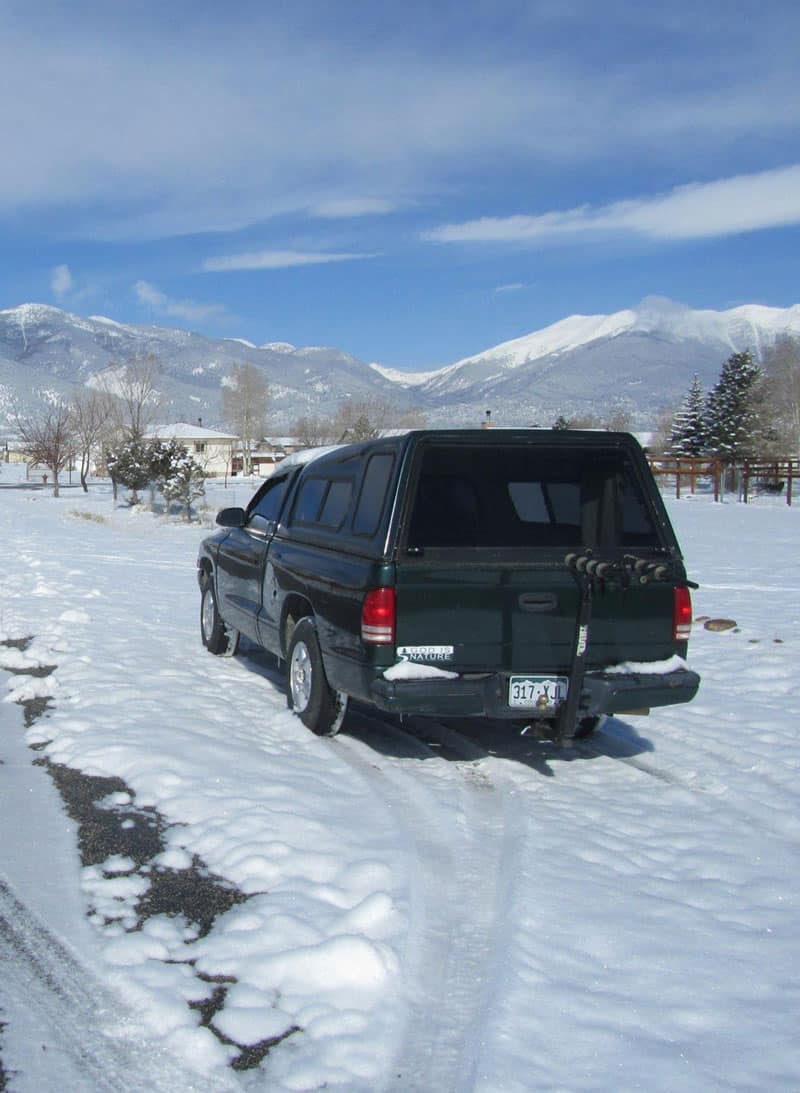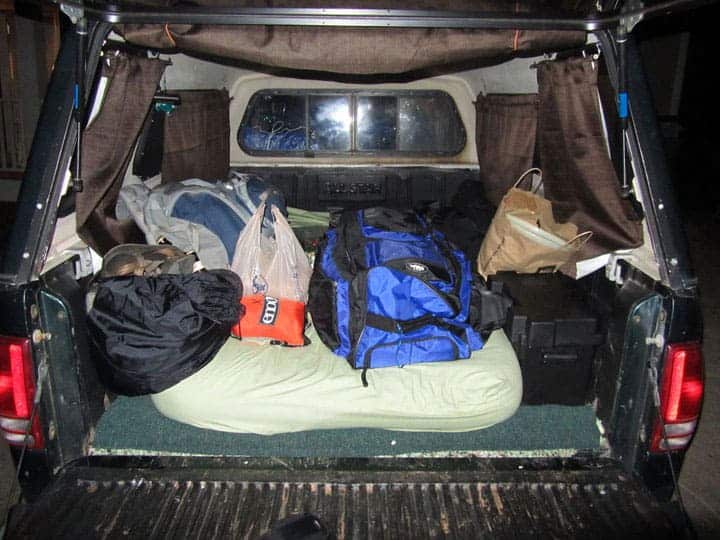 "Loose Lucy" – 1999 Dodge Dakota Pick-up Truck with Camper Shell
The very first vehicle that I lived out of was about as simple as they come. This pick-up truck was meant to easily take me around the United States with minimal cost and ultimate stealth.
I found a matching camper shell to put on the back of the pick-up truck so I could sleep in the back.
Included:
Twin Futon Mattress
150 Ah Battery
Curtains
Camp Stove
Verizon Mobile Wifi
This vehicle only had enough room to sleep and have camping/outdoor gear. This was perfect for me at the time but obviously came without the luxury of having a bathroom, shower, or consistent power.
How I Made Income During this Time:
I left my home with all of my possessions in a backpack and $200 in my pocket. My first thoughts on income were to build websites for businesses around the country while making sales in person.
While this worked for a short period of time, I quickly found that I was able to make a better living playing music and working odd-jobs on Craigslist.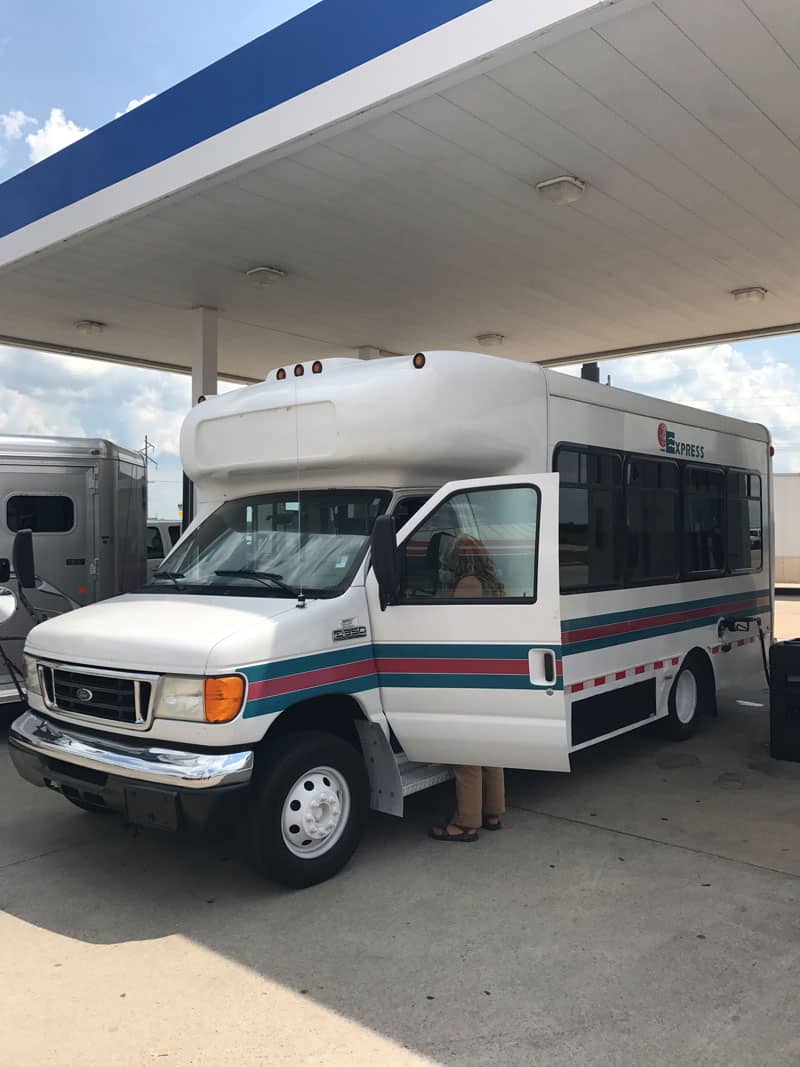 "Starship Enterprise" – 2004 Ford E-350 18-Passenger Shuttle Bus
This shuttle bus was purchased as a travel vehicle for a 6-person rock and roll band.
The vehicle was purchased in Chicago for cheap due to the amount of rust accumulated but had low mileage and was a great choice for sleeping 6 people when traveling on a tour with a budget.
Included:
Full Leather Couch
Loveseat Couch
Hammock
600W Inverter
Wheelchair Ramp
This vehicle turned out to be a comfortable option for 6 touring musicians with having the room for multiple couches and gear. Loading in and out gear was an ease with the help of an electric wheelchair ramp.
While this vehicle was not the sole purpose of building out for a solo traveler, I have met some amazing traveling friends that have built out shuttle buses and have found out a lot of excellent information on the pros and cons of a converted bus.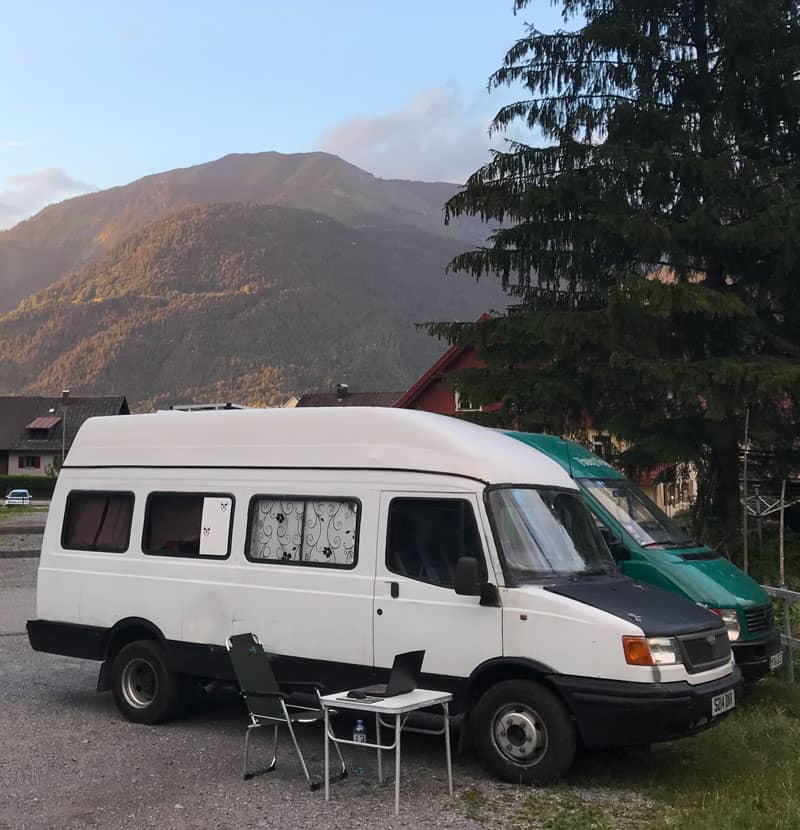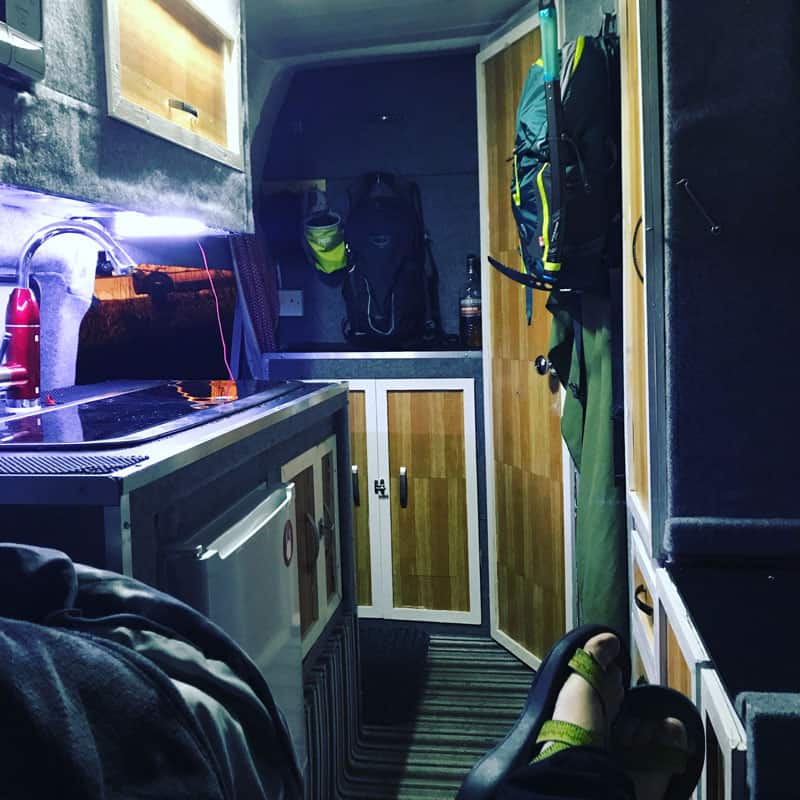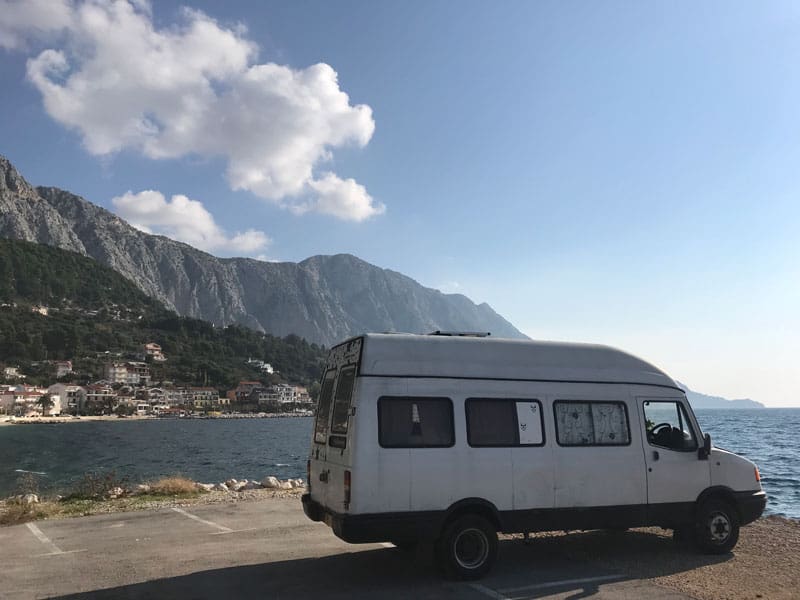 "Jennie" – 1998 LDV Convoy 12-Passenger High-Top Van (England Model)
This is my European travel vehicle and so far has comfortably taken me around Western Europe.
I purchased this vehicle in England back in March 2018 and spend a year and 20k miles around the continent. And yes, the steering wheel was on the right side of the vehicle!
Included:
Shower Room
150 Ah Battery
Curtains
Built-in Stove
Full-size Bed
Four 50W Solar Panels
Chemical Portable Toilet
240V Hookup for Campgrounds
This vehicle was the perfect travel van for European exploration. I was able to take showers in the vehicle, have enough power for my laptop, lights, fan, and cooler, and cook each night.
How I Made Income During this Time:
A year before I began my trip, I started a digital marketing business in Durango, Colorado.
Once my income level was at a decent enough level to hit the road, I decided to once again hit the road. It was around this time that I also found an awesome business partner who was excited to work in the office downtown while I was to work remotely.
One of the main questions I get about this build is how I was able to buy a vehicle and legally drive it around Europe.
You can read all about it in this article that is dedicated to those interested in traveling around Europe in a vehicle.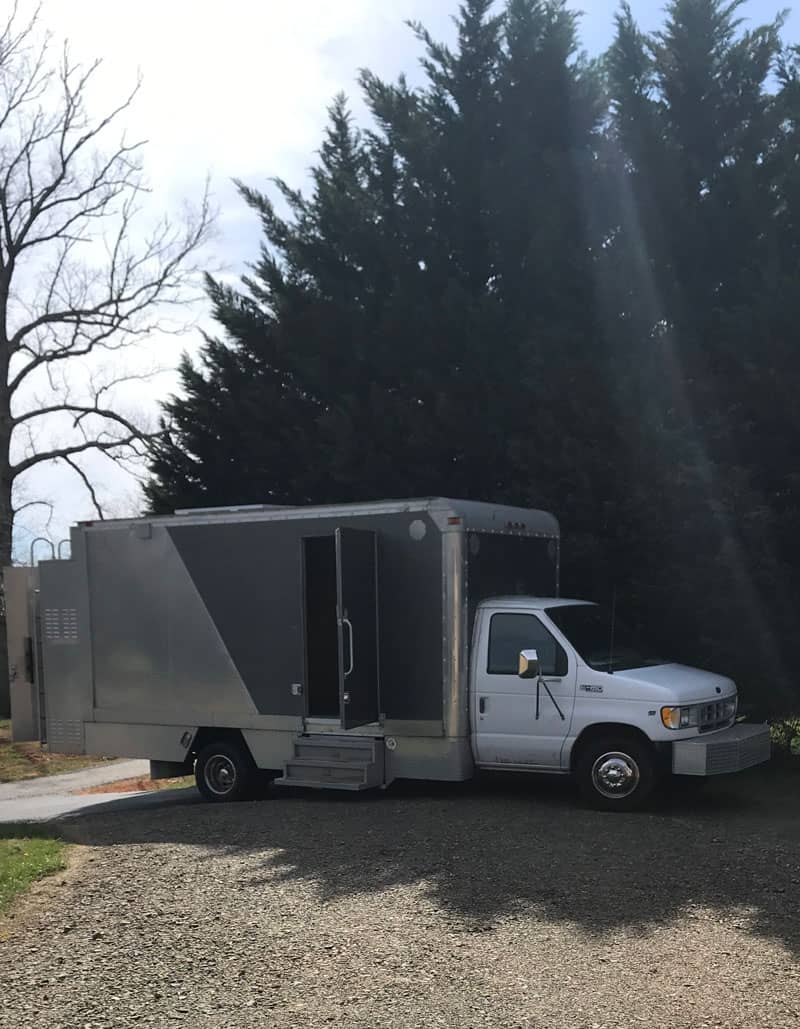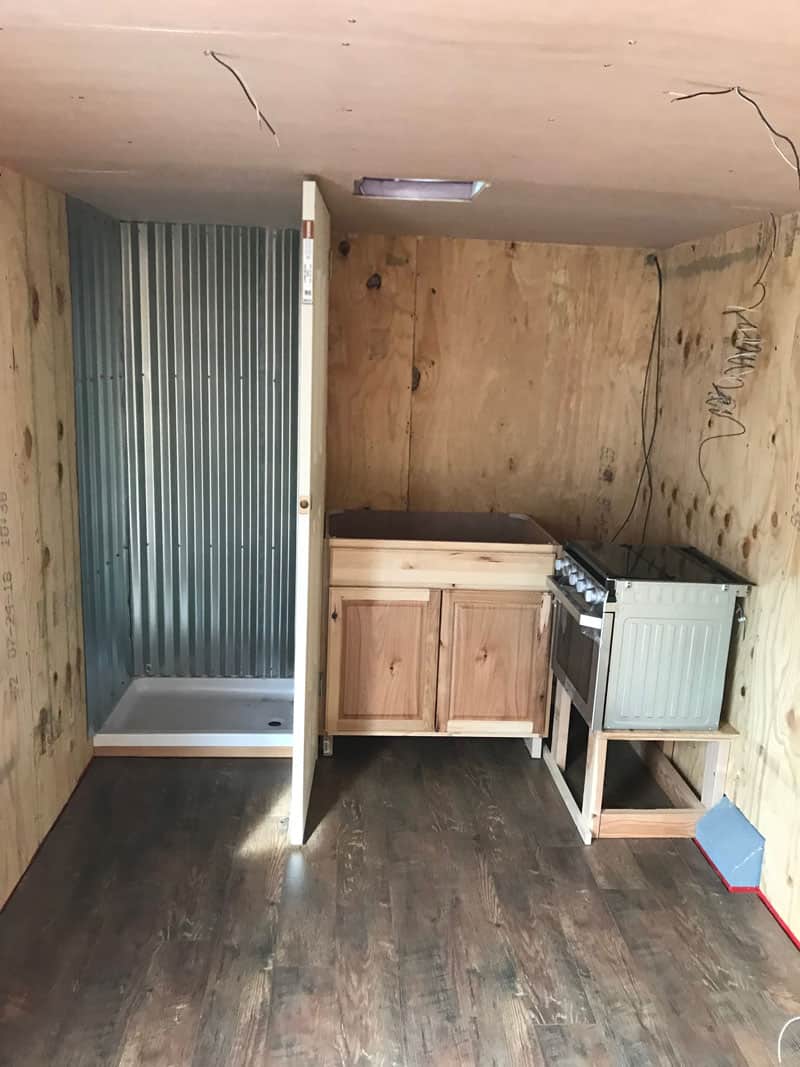 "Bessie" – 1999 Ford E-450 Custom Box Truck Conversion
This is the latest build I have been working on to act as a mobile home in the United States.
While the vehicle is still in DIY construction mode, we are excited to see the awesome features that will be included with it.
Included:
24″ x 32″ Shower
DIY Compostable Toilet
Double Sink
Propane Stove and Oven
Queen Murphy Bed
Office
Three 200Ah Batteries (600Ah Total)
Four 100W Solar Panels (400W Total)
Dometic 65W Cooler
Suburban Furnace
Rigid Foam Insulation
Stereo
This vehicle is turning out to be quite the build! This type of vehicle was chosen due to stealth, comfortability, and of course style.
While this conversion is costly, it will have the luxuries of acting more like a tiny home rather than a converted van.
Having a full shower, full kitchen, toilet for regular use, queen size bed, and office, will make this vehicle the most comfortable yet (at the cost of terrible gas mileage of course).
While it is still in the process of converting, I have learned quite a few pros and cons with building out a box van.
We would love to share our experience with you and what the cost and considerations can be when looking into buying and living out of a converted box truck.