If you're yearning for a beach getaway that is a little beyond the ordinary, consider embarking on a journey to the alluring world of pink sand beaches.
These rare and ethereal coastlines, boasting hues ranging from a faint blush to a vibrant rose, offer a unique twist on the typical golden sands. Scattered across the globe, from the azure waters of the Mediterranean to the lush tropics of Indonesia, these pink paradises present a visual spectacle unlike any other.
From Bermuda's Horseshoe Bay to the exotic beach of Padar Island, we've gathered a list of 15 of the most stunning pink sand beaches around the globe.
While there is no claim to one best sand beach, each of these destinations has beautiful beaches and makes for the perfect vacation.
Pack your sunnies and flip-flops, and let's explore these natural wonders that truly redefine beach beauty. "Pink Sand Beaches for Your Next Destination" offers you an exclusive peek into these uniquely colored landscapes, promising a trip of a lifetime.
Horseshoe Bay Beach, Bermuda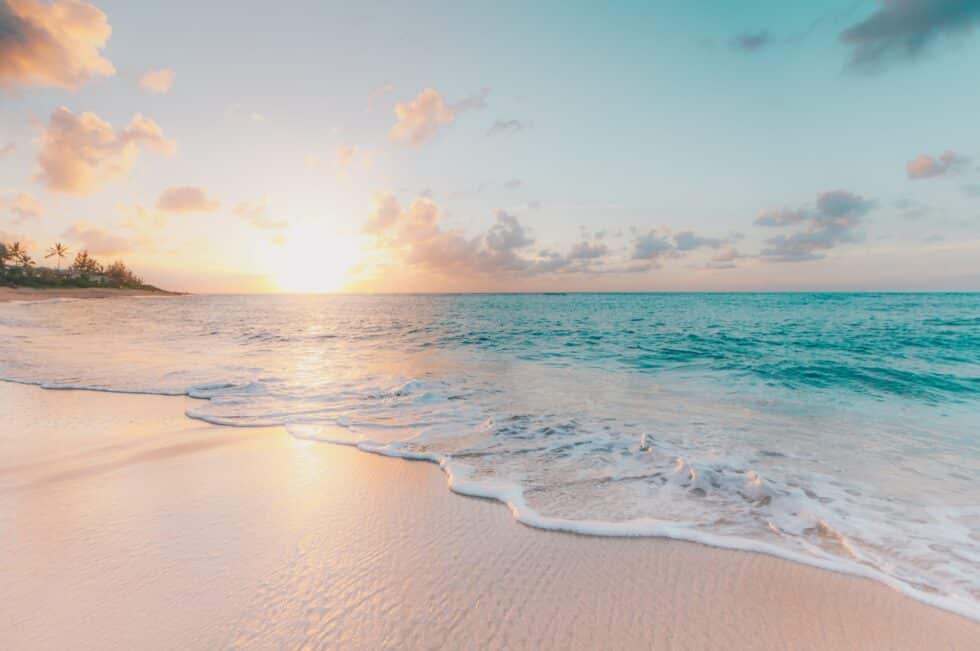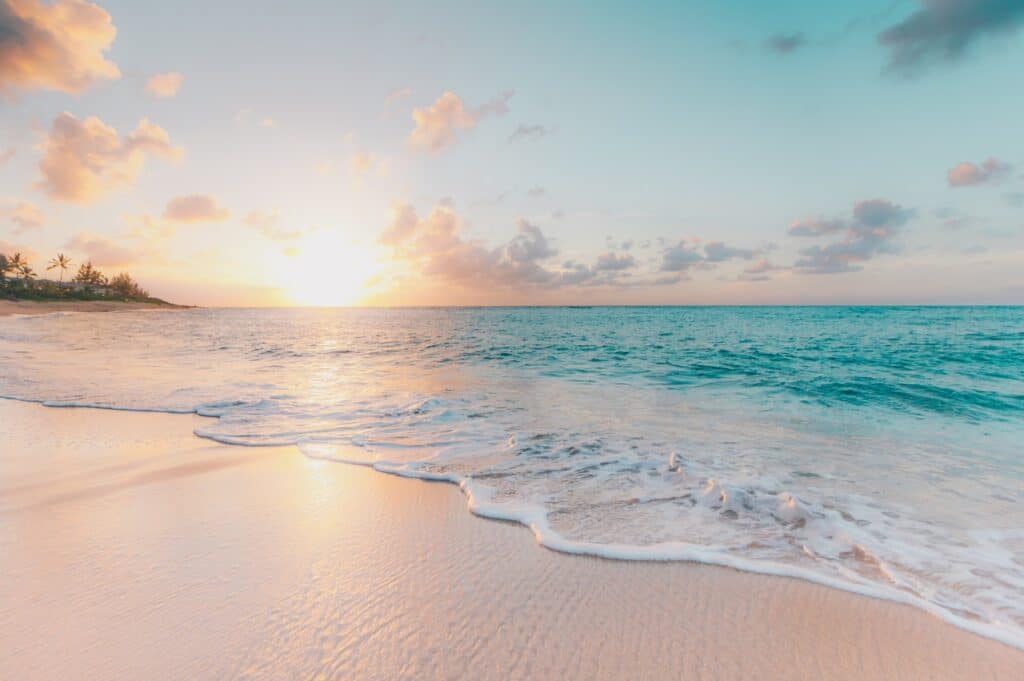 Located in Southampton parish, this pink sand beach is arguably Bermuda's most famous coastline.
As one of the most beautiful pink sand beaches, it is the perfect location if you are exploring Bermuda beaches. It is located within South Shore Park and is one of best in Bermuda's beaches.
Horseshoe Bay Beach gets its name from its curvaceous, horseshoe-like shape, but it's the unique pink sand beach that truly sets it apart.
The gentle blush of the shore is a contrast to the azure Atlantic, creating an enchanting landscape perfect for relaxation and beach-side frolicking.
Elafonisi Beach, Crete, Greece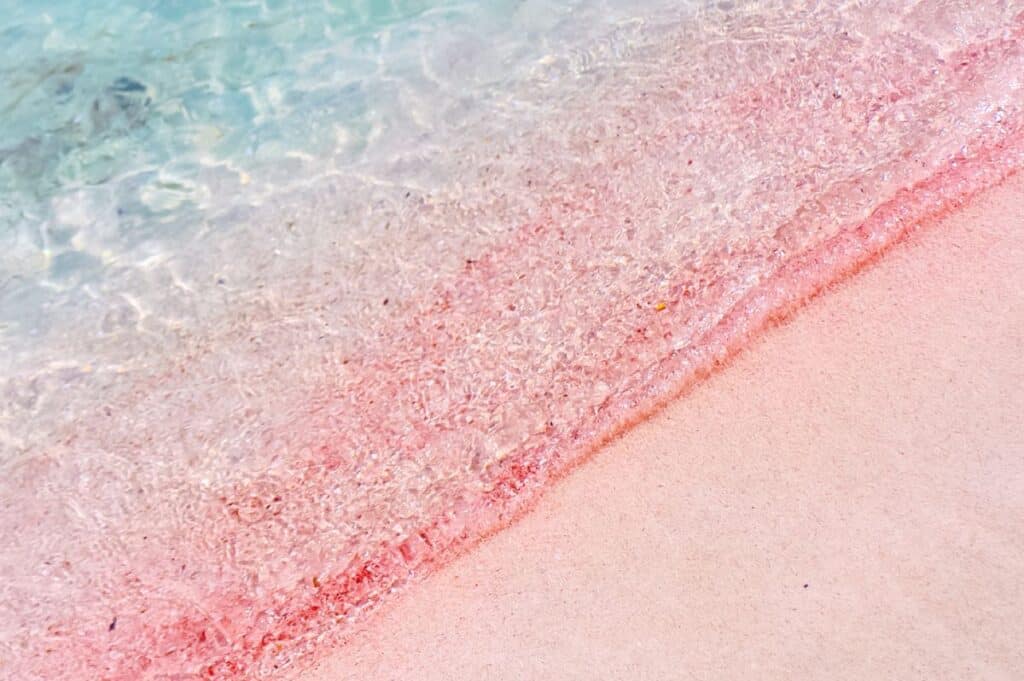 Elafonisi Beach is a sun-drenched paradise on the southwestern side of Crete.
The beach is renowned for its rare pink sands, a result of countless crushed shells over the years. The pink sand beach is separated by shallow, warm waters that even at their deepest, barely reach a meter.
Elafonisi's breathtaking combination of an extraordinary pink sand beach and crystal-clear water is like a slice of tropical heaven in the Mediterranean.
Pink Sands Beach, Harbour Island, Bahamas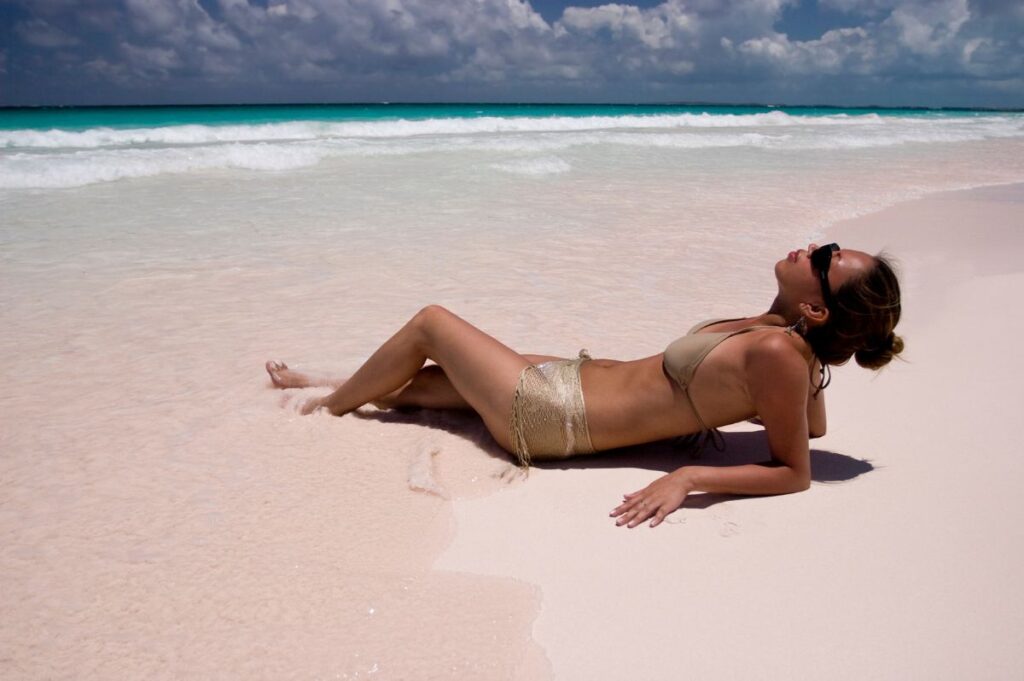 Named quite literally for its incredible hue of pink sands, Pink Sands Beach is a three-mile stretch of blush-colored coastline on Harbour Island.
The vibrant pink color comes from microscopic coral insects known as Foraminifera. Pink Sands Beach – with its stunning color, coupled with its tranquil, turquoise waters, makes it a must-visit spot for any Bahamas itinerary.
While Pink Sands Beach is not the only incredibly beautiful beach in the Bahamas, it might just be the most well-renown beach in Harbour Island on the Atlantic Ocean.
How do you get there? Easy.
Fort Lauderdale and Miami both have direct flights to North Eleuthera airport and then you can take a quick 10-minute taxi ride to Harbour Island.
Harbour Island is also home to the nearby Devil's Backbone, which is a trechorous reef that is home to many various shipwrecks on the sea floors.
Elbow Beach, Bermuda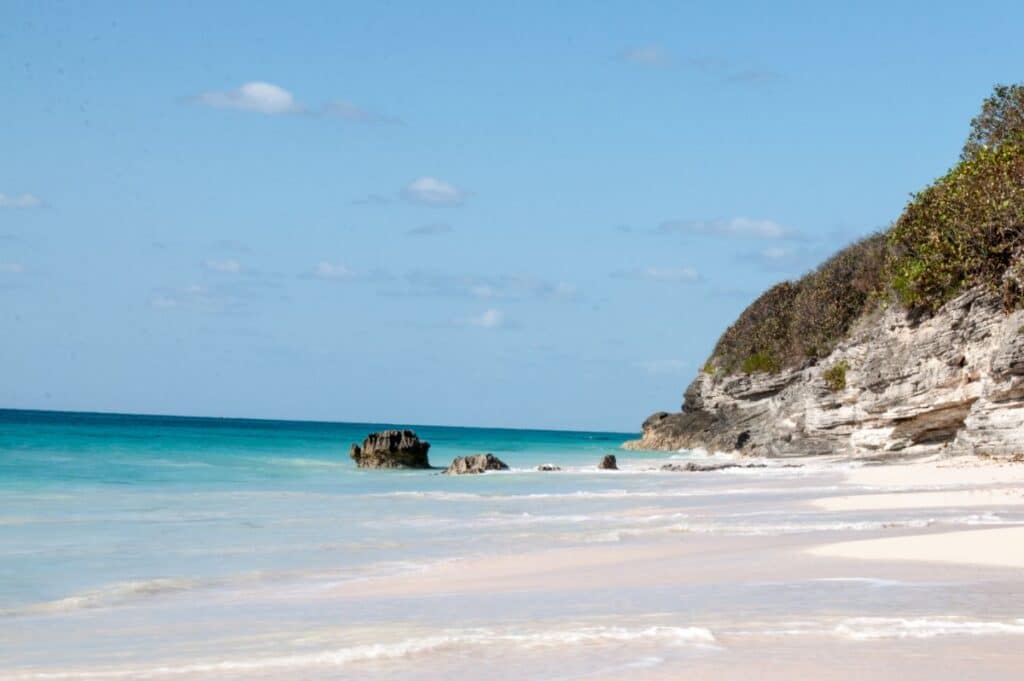 Another of Bermuda's pink sand offerings, this pink sand beach is a popular spot for both tourists and locals. The beach's name comes from its curved shape that resembles an elbow. Protected by a coral reef, the waters are calm and ideal for snorkeling. The soft pink sands invite you to relax and soak up the Caribbean sun.
If you have the time while visiting Bermuda, take a trip to both Elbow Beach and Horseshoe Bay Beach to get two pink beaches for the price of one. (OK – but they are both still free so two freebies for one).
Spiaggia Rosa, Budelli, Italy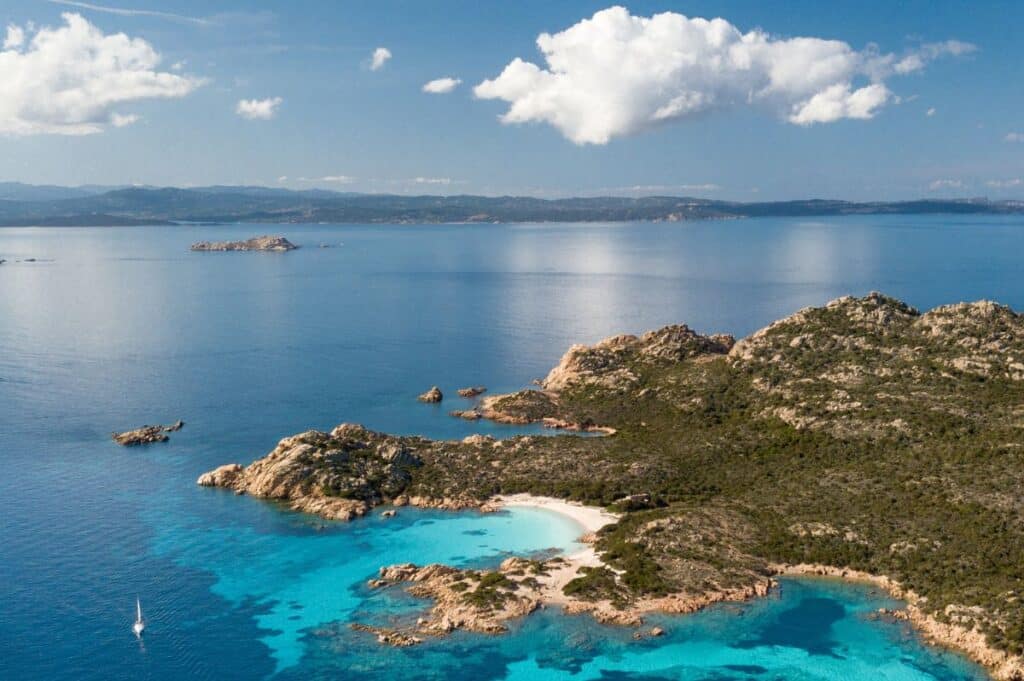 Literally translating to "Pink Beach," Spiaggia Rosa on Budelli Island, Italy, owes its pinkish hue to a mixture of coral, shells, and microscopic organisms.
This is one of those famous pink beaches that is so precious that it's no longer open to the public to protect its unique beauty.
Nonetheless, tourists can still admire this natural wonder from a boat, taking in the view of one of the Mediterranean's most distinctive landscapes.
Balos Lagoon, Crete, Greece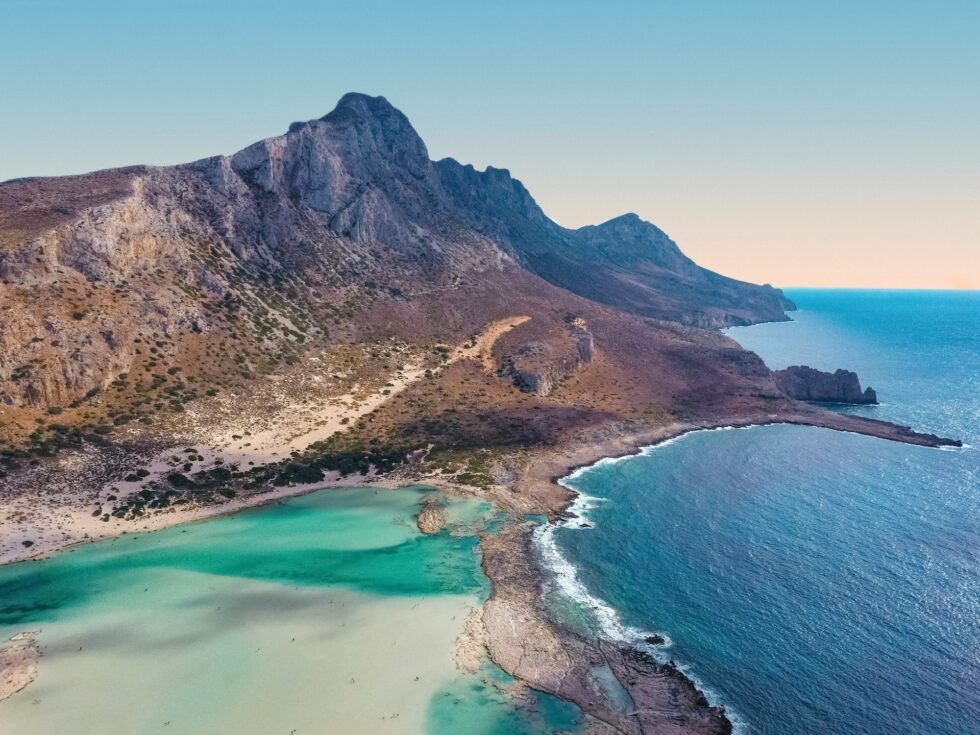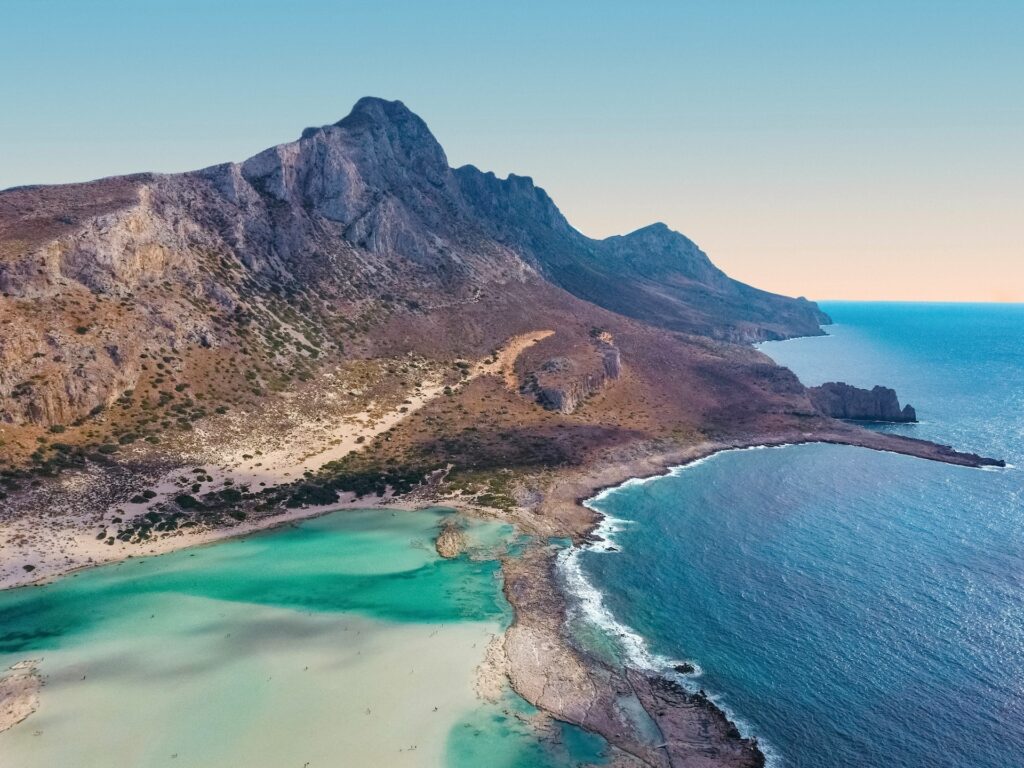 Another gem from Crete, the Balos Lagoon is a surreal beauty. The sandy beach here features a unique bright pink hue thanks to millions of crushed shells. The lagoon's shallow, crystal-clear waters gradually shift from emerald green to deep blue, creating a fascinating color palette that's a feast for the eyes.
With its wild, exotic landscape and pink sand beach, Balos Lagoon feels like a corner of paradise.
Tangsi Beach, Lombok, Indonesia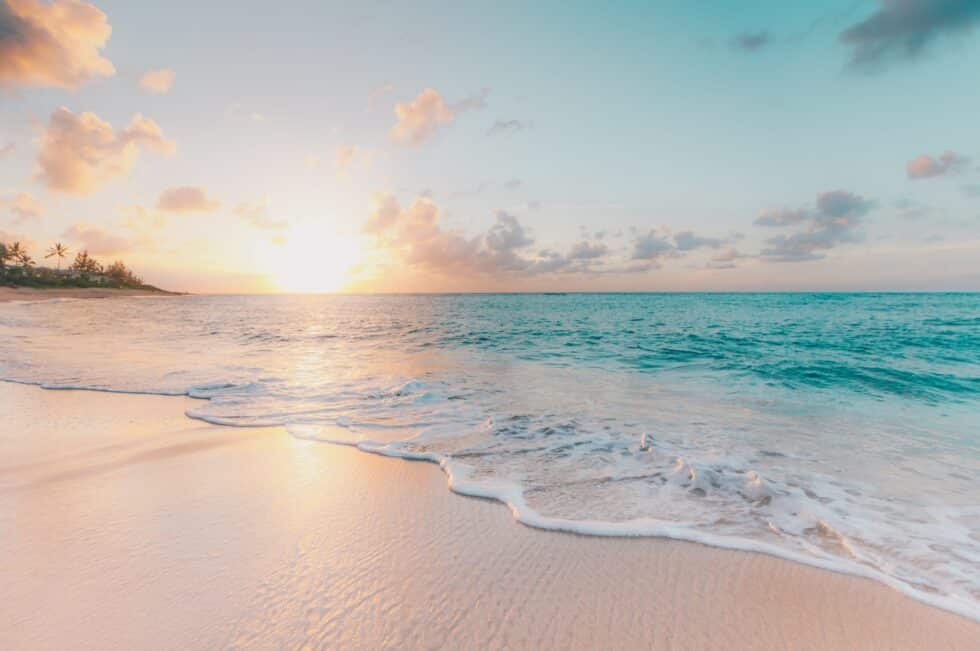 Often referred to as Pink Beach, Tangsi Beach on Lombok Island is one of the few beaches worldwide blessed with pink sand. The distinctive color comes from tiny fragments of red coral mixed with white sand.
Set against a backdrop of turquoise water and lush hills, this beach provides a vibrant and unique seaside experience that's nothing short of mesmerizing.
Pfeiffer Beach, California, USA
Situated in Big Sur, California, Pfeiffer Beach is known for its purple-pink sands, a result of manganese garnet deposits washed down from the hillside.
This pink sand beach is a photogenic marvel, with its color-splashed shore, unusual rocky cliffs, and dramatic waves. It's the perfect spot for a unique beach day or a picturesque leisurely stroll by the water's edge.
Grande Santa Cruz Island, Zamboanga, Philippines
Home to one of the rarest beaches in the world, Grande Santa Cruz Island in the Philippines boasts a striking pink sand beach. The sand gets its color from pulverized red organ pipe coral mixed with white sand, resulting in a soft pink hue. Coupled with its crystal-clear waters and abundant marine life, this beach is a truly unique tropical getaway.
Pink Beach, Bonaire, Caribbean Netherlands
Located on the small Caribbean Island of Bonaire, Pink Beach unsurprisingly gets its name from the subtle pink hue of its sand. The color is a result of countless crushed shells scattered along the shore. The beach is also a popular spot for snorkeling and diving thanks to its clear waters and thriving coral reefs. A day here is a day spent in a pastel-colored paradise.
Komodo Island, Indonesia
A famed home to the ancient and endangered Komodo dragons, Komodo Island in Indonesia also houses one of the world's intriguing pink beaches. The pink sand, a result of red coral particles mixing with the white sand, beautifully contrasts the cerulean waters. This beach doesn't only offer a unique sunbathing experience but also vibrant underwater life, making it an excellent spot for snorkeling and diving.
Crane Beach, Barbados
Named after the large crane once situated on the cliff top, Crane Beach in Barbados is a captivating vision of pink-tinged sands and foamy azure waves.
Located on the island's south coast, the coral shore glows under the sunlight, offering an inviting place to sunbathe, stroll, or enjoy a peaceful picnic.
Surf enthusiasts will also find Crane Beach to have appealing waves to get their surf on.
Balmoral Island, Bahamas
Situated just a short boat ride from Nassau, Balmoral Island harbors a less-known but equally beautiful pink sand beach. Its sandy shoreline shimmers with a soft pink hue under the sun, creating an irresistible spot for sun-worshipers. The clear, warm waters are ideal for swimming and snorkeling, promising an intimate encounter with the island's vibrant marine life.
Playa de Ses Illetes, Formentera, Spain
A crown jewel of the Spanish island of Formentera, Playa de Ses Illetes boasts a gorgeous beach adorned with pink sand.
Its shallow, transparent waters are reminiscent of a tropical lagoon, and the beach offers breathtaking views of the nearby islets. Often ranked among the world's best beaches, Playa de Ses Illetes provides a sun-soaked haven for beach lovers.
Padar Island, Indonesia
Famed for its panoramic view from the island's peak, Padar Island in Indonesia is also home to a unique pink sand beach.
The rosy tint of the sand comes from red coral fragments combined with the white sand.
Surrounded by rolling hills and azure waters, this beach is a slice of unspoiled beauty, offering a serene spot to relax or a picturesque trail for an invigorating hike.
The waters surrounding Padar Island are also home to incredible coral reefs and plenty of diving.
What's your next desination for Pink Sand Beaches in the World?
As our journey through the world's most mesmerizing pink sand beaches concludes, it's clear that these extraordinary destinations offer more than just a typical day at the beach.
Each unique shoreline, with its varying shades of pink, sets the stage for a beach experience that's as remarkable as it is relaxing.
Whether it's the dramatic landscapes of Pfeiffer Beach, California, the snorkeling paradise of Komodo Island, Indonesia, or the secluded serenity of Spiaggia Rosa, Budelli, Italy, these pink sand beaches truly offer a captivating twist to your beach vacation.
So, why wait?
Let your next adventure be guided by these splendid hues of nature and embark on a trip to these unparalleled shores. Make one of these "best pink sand beaches" your next destination, and prepare to be amazed by the rosy charm that awaits.