Ensuring your comfort is paramount when embarking on an unforgettable van camping adventure. After a day filled with exploration and outdoor activities, you'll want to unwind and relax in the perfect camping chair. But with countless options available, finding the best one for van camping can be overwhelming. So let's explore the key features to consider when selecting a camping chair for van camping and provide insights into the types of chairs that offer the ideal blend of comfort, portability, and durability.
Lightweight and Compact Design
Space is a precious commodity in a van, so it's crucial to pick a camping chair that is lightweight and compact. Look for chairs made from lightweight materials like aluminum or lightweight steel, as they are easier to transport and store in limited space.
Additionally, opt for foldable designs that can be collapsed into a compact size for hassle-free storage. A good way to find chairs built to be very light is to search for chairs built specifically for backpacking. If you search for backpacking camp chairs, you will find a mix of stools as well as simple, lightweight chairs. Now with that being said, where you don't have to carry your chair very far, you should find the middle ground between lightweight and heavy duty outdoor chairs with 400 lbs capacity.
Durability and Sturdiness
A reliable camping chair should be able to withstand the rigors of outdoor use. Van camping involves various terrains and environments, so select a chair constructed from durable materials such as nylon, polyester, or reinforced fabrics. Reinforced stitching and sturdy frames, such as those made from aluminum or steel, will ensure that your chair lasts through multiple camping seasons. No one wants to replace their camping chair each season just because it was poorly made or not built to withstand much weight.
Comfort and Ergonomics
Van camping is all about relaxation, so prioritize a comfortable camping chair. Look for chairs with adequate padding in the seat and backrest, as well as armrests for added support. Ergonomic designs that contour to your body shape provide optimal comfort during extended periods of sitting. Additionally, consider chairs with adjustable features like reclining positions, footrests, or headrests for customizable comfort options. As mentioned above, you will need to find a balance between portability and comfort. The benefit of van life is you don't have to carry your chair very far as the camp is right outside your door. So finding a chair that gives you a little more comfort for a little extra weight just might be worth it.
Portability and Easy Setup
Efficiency is key when van camping, so choose a camping chair that is easy to transport and set up. Chairs that come with carrying bags or straps make them convenient to carry, while integrated mechanisms for quick assembly and disassembly simplify the setup process. Time saved on chair setup can be better spent enjoying the great outdoors. Almost any modern camp chair will quickly fold up for easy storage, so don't even look at the old-school cheap plastic chairs that don't collapse, and they will take up way more space and are much more difficult to manage.
Versatility
While comfort is paramount, versatility should also be a factor in your decision-making process. Consider camping chairs that can be used in multiple settings, such as around a campfire, at the beach, or for outdoor picnics. Foldable side tables or cup holders are practical additions that enhance the chair's versatility and functionality.
Weather Resistance
Weather conditions can be unpredictable during van camping trips, so choose a camping chair that can withstand various weather elements. Look for chairs with water-resistant or waterproof materials that can handle occasional rain showers. Additionally, chairs with UV-resistant properties protect against sun damage, ensuring longevity and color retention over time.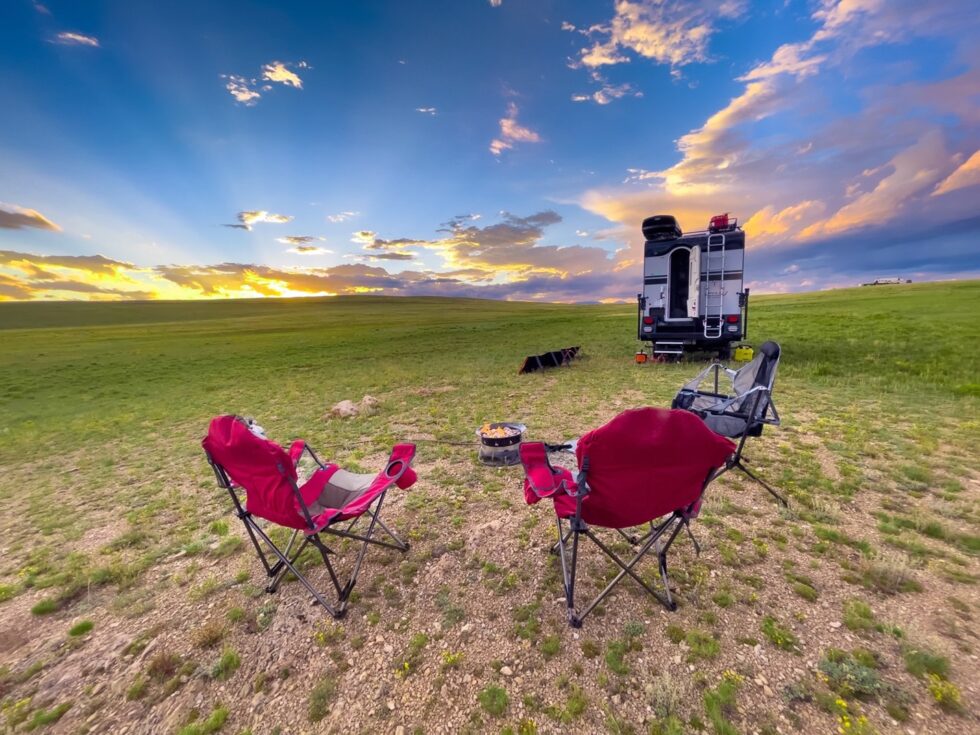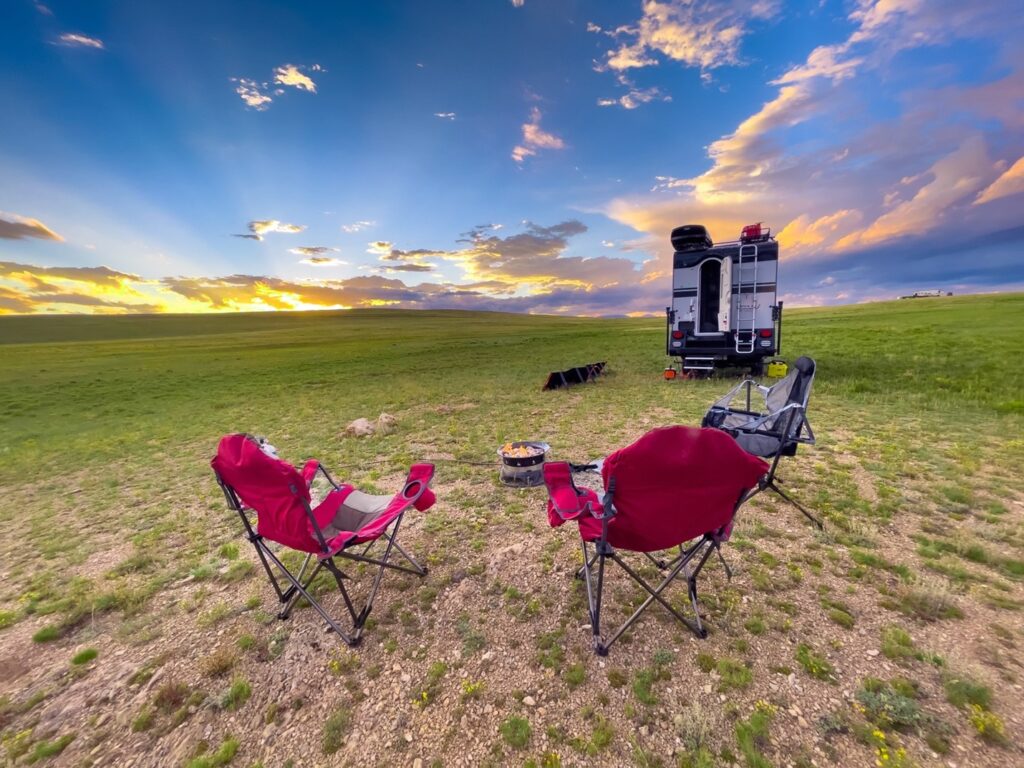 With all that being said. Here are our recommendations based on the factors mentioned above. Here are some camping chair options that excel in each category:
Lightweight and Compact Design
Helinox Chair One: Made with lightweight materials, this chair is highly portable and compact, making it perfect for van camping.
Durability and Sturdiness
King Kong Chair by ALPS Mountaineering: The King Kong chair features a robust steel frame and durable polyester fabric, ensuring long-lasting use in rugged outdoor conditions. This chair has a weight capacity of 800 lbs, so it is built for even the most hearty of campers.
Comfort and Ergonomics
Kijaro Dual Lock Portable Camping and Sports Chair: With a cushioned seat and headrest, this chair offers exceptional comfort and ergonomic support during extended periods of sitting.
Portability and Easy Setup
Coleman Portable Camping Quad Chair: This chair folds up quickly and easily and also comes with a handy carrying bag, allowing for effortless transportation and quick setup.
Versatility
Trekology YIZI GO Portable Camping Chair: This chair is not only lightweight and compact but also versatile enough for various outdoor activities, including camping, backpacking, and picnics. This chair is a good all-around chair that you won't mind keeping around even after the van life has ended.
Weather Resistance
KingCamp Heavy Duty Steel Folding Chair: Designed with weather-resistant materials, this chair can withstand different weather conditions, ensuring durability and comfort.
Remember, individual preferences may vary, and it's essential to consider personal comfort and budget when selecting the best camp seats for your van camping adventures. Selecting the right camping chair for van camping is essential for a comfortable and enjoyable outdoor experience. By considering factors such as lightweight design, durability, comfort, portability, versatility, and weather resistance, you can make an informed choice. Remember that the perfect camping chair should provide a balance between comfort, convenience, and functionality, enhancing your overall van camping adventure. However, you don't have to take our word for it. Each of these chairs has thousands of reviews online, so go ahead and choose the camping chair that suits your needs, sit back, and relax in nature's embrace. Happy van camping!